How it works
Ivoy transforms the traditional business model with a client-centric approach.
Once you create your flight request, a large database of vetted service providers is notified of all the details of your trip. Then, those most suited to match your unique requirements will contact you with their best available offers. All that's left for you to do is decide which offer you'd like to accept.
Unbiased
Client's flight request is instantly visible and forwarded to every operator on the entire network.
Transparent
Every operator competes for the customer in a live bidding process in which clients have full insight.
Effective
With a single request, clients receive multiple offers from various operators.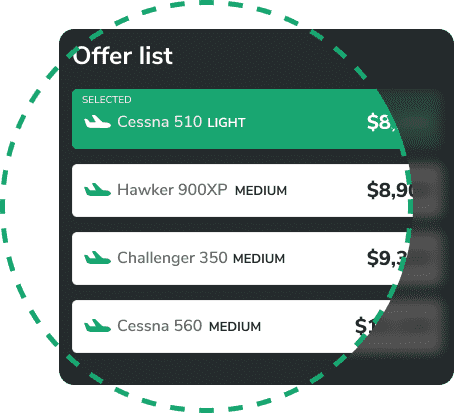 Cost-efficient
Clients have direct info about real, live market price for their requests, no hidden fees and no middleman.
Bidding system by its nature offers significantly lower prices in a competitive market environment.
Prices are further reduced by HOT flights (empty leg and seat sharing) functionality.
Time-efficient
Clients get immediate response from interested operators instead of losing time contacting various broker companies.
Medical flights
Highly effective solution for fast booking in time-sensitive situations.